I was fortunate years ago, to read passages from an early draft of Tamara Ellis Smith's brilliant debut novel, Another Kind of Hurricane. Even then, it was the kind of story that stayed with you. That got inside you and made you wonder. That made you dream. Made you believe.  What a joy for all of us that Another Kind of Hurricane makes its way into the world this month. I'm honored to host on the inaugural post of WRITE NOW…my friend, the lovely and very talented, Tamara Ellis Smith.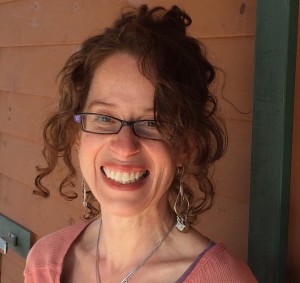 More Like a Bull Than a Butterfly
I was a creative kid. I wrote in journals, I wrote poems, I wrote plays, I made clothes, I cooked. I was able to do lots of things. (See the previous sentence!) People always commented on this, in fact. They said I could do anything I put my mind to. (And they pointed to all of those things in that darned sentence!)
But here's the important part of what they said: anything I put my mind to.
And this wasn't true.
There were plenty of things I placed my mind upon that I was not able to do. A list a mile long, in fact. But nobody knew that because I tried them all for less than a minute – enough time to recognize that they wouldn't come easily but not enough time for people to notice that I had even tried. A butterfly landing on a fence post and then flying away again in the blink of an eye.
I was not patient. This is part of why I didn't try these things for too long. In fact, I was almost allergic to patience. Truly. If something was hard to do, then I got all itchy and breathed heavy like a dog on a hot day. If I couldn't figure something out quickly, then I believed it wasn't worth doing.
Or I made myself believe that.
Because the truth is that while, yes, I was an impatient kid, I was more of a scared kid. Scared to take a risk. Scared to leave my comfort zone. Scared to try something that was hard to do, because I might fail.
I spent a long time like this.
There wasn't an exact moment when I finally faced this fear. It came in bits and pieces. I needed a way to de-stress and so I began a very long process of learning how to be a runner. I wanted to be a better parent and so I began the very long process of learning how to nurture. And one summer—ten years ago—I wanted to tell the story of two boys during Hurricane Katrina and so I began the very long process of writing a novel. And—
Ten years, two major rewrites and about twenty-five drafts later, Another Kind of Hurricane was born.
Facing the fear that I couldn't write a novel meant changing my relationship with patience. (I needed it to be a friendly one, because I was going to be using it a lot!) But it was my relationship with longing that made the biggest difference in getting my novel done. While I had always had a terrible relationship with patience, I had no relationship with longing. I had consistently and successfully pushed it aside. Finally—after all of these years—I was honest with myself about what I deeply longed for. I let that longing sit with me, day after day, through mistakes and critiques and rejections and epiphanies and writing spurts and writer's block. And—
Ten years, two major rewrites and about twenty-five drafts later, Another Kind of Hurricane was born.
This is what I believe and this is what I urge:
It's a good idea to find something to be grateful for, and focus on it.

Find out what you love and do it – even if it means hard work, making mistakes and not getting it right the first time…or the fifth time…or the fiftieth time. Especially if it means all of that.

Be patient.

Be less like a butterfly and more like a bull.

Take a deep breath.

Find a friend. Ask her or him to tell you that you can do it. And then try again.
Helping New Orleans:
lowernine.org is a nonprofit organization dedicated to the long-term recovery of the Lower Ninth Ward of New Orleans, Louisiana in the wake of Hurricanes Katrina and Rita, and the levee breaches of 2005. lowernine.org is working to bring home more Lower Ninth Ward families than any other single organization.
A portion of the profits from the sale of Another Kind of Hurricane goes directly to lowernine.org.
Big Class is a nonprofit organization dedicated to cultivating and supporting the voices of New Orleans' writers ages 6-18 through creative collaborations with schools and communities. Big Class offers a variety of free, innovative programs that provide under-resourced students with opportunities to explore their creativity and improve their writing skills.
Readers all over the country are donating copies of Another Kind of Hurricane—as well as other vital books—to Big Class, getting meaningful stories directly into the hands of the community they represent.
Information about both of these organizations—and how you can help—can be found at www.tamaraellissmith.com.
Tamara Ellis Smith earned her MFA in Writing for Children and Young Adults from the Vermont College of Fine Arts. She lives in Richmond, Vermont, with her family. This is her first novel. Visit her on the Web at tamaraellissmith.com.