WRITE NOW…with Linden McNeilly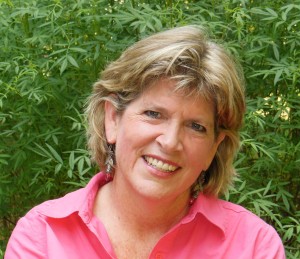 As readers, we know the bliss of getting lost in the world of story, the thrill of discovering new realms and visiting wondrous and distant places. As writers, we experience the joy of creating these worlds, designing their landscapes, constructing their features. This week, Linden McNeilly, author of the fascinating and innovative Map Art Lab: 52 Exciting Art Explorations in Mapmaking, Imagination, and Travel, discusses how creating maps can help us to build these worlds and ground us more firmly in our stories. I'm so pleased to welcome on WRITE NOW the wonderful and talented…Linden McNeilly.
Story Maps
Some of the most memorable maps from childhood are endpaper maps found on the inside covers of beloved books. Who doesn't remember tracing Milo's way from the tollbooth to Expectations, and shivering at the thought of the demons in the Mountains of Ignorance? And how about the Lord of the Rings map, showing Mordor protected on three sides by impossibly sharp mountains?
In my book Map Art Lab: 52 Exciting Art Explorations in Mapmaking, Imagination, and Travel (Quarto press, 2014) I show how these maps—and others associated with books—help tell the story.
As a writer, you can make your own story maps as a tool to layer your story with details like physical movement, weather, smells and sounds.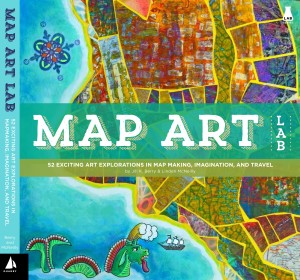 Many writers make sketches of the locations in which their characters live. It helps to organize thinking as you describe your characters' movements and their perspective. It can also keep you from changing details mid-story. I'm sure I'm not the only one who has written half a story in which the school is down the lane, only to find that by the end I've located the school on a hill, with the play yard overlooking the town square!
For my current work in progress, I often imagined how the character would get from place to place. I made lots of sketched maps. But they often seem flat and lacking, and it was hard to imagine relief in the landscape, especially in this story, which is located in a valley and includes nearby mountains. So I started by looking online for aerial photos that resonated with me. My search terms were "aerial valley village." It turned out this photo of a village was a great starting point. It has a cluster of houses, with a couple further away, and a creek running under the main road. It also reminded me to have wild areas at the fringes of the town: great places for a graveyard, dwellings for the outcasts, or places for characters to rendezvous or run away.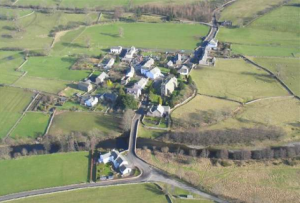 But I needed to include those mountains, so I searched a little more and found this photo: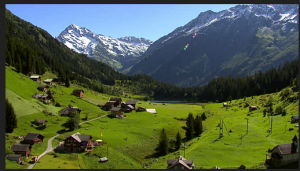 It looked less like a map than the first one, so I just used it to help imagine the mountains and the closed-in feeling of the valley.
To make the map, I traced the first photo, creating a bit more space around the houses and adding a few other buildings. Tracing is a great technique! You free yourself from criticism and just follow the lines. And you can be as creative as you like: adding natural features or places included in your story. Mine is a self-contained community, so they need food, school, medicine, trade, social areas, etc. I colored some of those in and made a key to remind myself. I added sensory details, just to get my mind working that way, to the key. I thought of sounds that would come from each place, and the smells that would correspond. As I write, I add to that key as I think of more elements I want to include. This is the first pass, done quickly.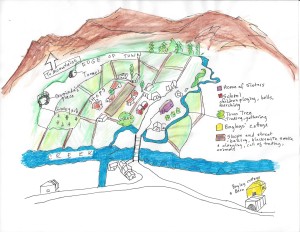 I find that if I invest a little bit of time—a couple of hours—doing this by hand with some detail and color, my brain stores this picture and helps keep me clear about the setting all through the writing. I could have simply tacked up the photos and called it a day, but the hand/mind connection—and my ownership of the meaning behind the images—would have been lost.
This map will go over my desk, and I'll take it down from time to time to add elements: weather, changes in the town (several structures burn down during the story) and perhaps alter a few things that don't work right. But it helps keep me focused on the world I am creating, keeping it real.
Linden McNeilly has a Masters from VCFA. She was a public school teacher for more than 25 years and now writes full time. Her upcoming publications include a middle grade non-fiction book on kinetic energy (due in Spring, 2016, Rourke Educational Media), non-fictions titles on insects you can eat and use for medicine, and an historical novel set in 1968 about the anti-war movement (all due in Fall, 2016, Rourke Educational Media). Her book, Map Art Lab: 52 Exciting Art Explorations in Mapmaking, Imagination, and Travel (Quarto press, 2014) was written with her sister, Jill Berry. Linden lives in the Central Coast of California with her husband and daughter, with three adult sons nearby. Her website is www.lindenmcneilly.com. She also makes handmade leather and marbled paper journals and tiny, real leather book necklaces. Her Etsy shop is at: https://www.etsy.com/shop/MarbledBooks?ref=search_shop_redirect
GIVEAWAY! Linden is offering a copy of her book, Map Art Lab: 52 Exciting Art Explorations in Mapmaking, Imagination, and Travel. Comment on the post for a chance to win!