WRITE NOW…with Hazel Mitchell and Liza Gardner Walsh
What a treat today to host an author/illustrator team this week on WRITE NOW. Where Do Fairies Go When It Snows?, the delightful picture book by Liza Gardner Walsh, offers a charming and imaginative tale, illustrated with Hazel Mitchell's gorgeous and whimsical drawings. How do an author and illustrator find one another? Here's one story and it's inspiring! It's my pleasure to welcome to WRITE NOW, the very talented and lovely Hazel Mitchell and Liza Gardner Walsh.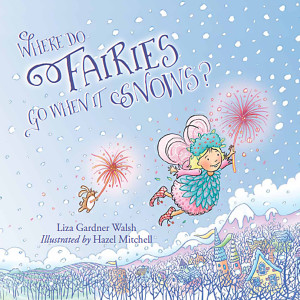 Fairies? But, of course!
Who wouldn't want to spend time creating drawings of fairies? When I was offered the chance to illustrate Where Do Fairies Go When It Snows? by Liza Gardner Walsh, I jumped at the chance! Actually it was serendipity. Here is the story: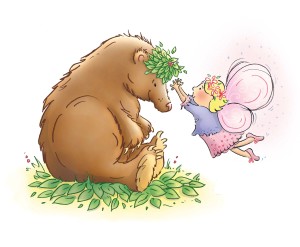 Liza and I shared a table at a book festival in Camden, Maine a year or so a go. I happened to have a postcard on my table with an illustration of a fairy flying over a fairy city accompanied by her bunny friend. It was just a sample I had played around with and decided to use as a giveaway. Liza (who has written several other non-fiction books for children on creating fairy houses and gardens), picked up the postcard. She told me she was writing a picture book about fairies and that she loved the style of my drawing. She kept my postcard.
I thought no more about it – then, fast forward and I received an email from the editor of Liza's books at Down East Books, Maine, asking if I'd be interested in illustrating the fairy book! And the rest, (as they say), is history.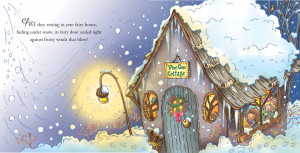 So much of our industry comes down to who you meet, who happens to see your work or who you might sit next to at a book festival! The cover of Where Do Fairies Go When It Snows is pretty much exactly the same as the postcard image that Liza saw originally. The same fairy features throughout the book, with her bunny.
It's so very nice when something that was just in your imagination gels with someone else's imagination and a book is born. This is one of the things that makes working in children's books such fun!
GIVEAWAY! Hazel and Liza are giving away a signed copy of Where Do Fairies Go When It Snows? as well as this adorable Winter Fairy Kit. Comment on the post for a chance to win!