WRITE NOW…with Kelly Bennett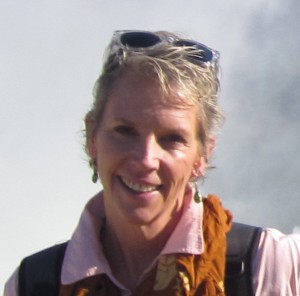 Kelly Bennett is simply unforgettable. Known for her humor and her heart, Kelly's books are bursting with both. Her picture book, Not Norman, A Goldfish Story–a favorite of my son's–recently celebrated 10 years in print and was chosen for Jumpstart's Read for the Record­© campaign. I'm tickled several shades of pink to host on WRITE NOW, my dear friend and Vermont College sister, the fabulous and fun Kelly Bennett.
Keep Your Head in the Game
Write now! That's often easier to tell myself than to do. As of late, everything—even my own books—are getting in the way of my writing. My current excuse for not spending much time writing is Jumpstart's 2015 Read for the Record© campaign. Just imagine it: On October 22nd, 2015, my fishy picture book, Not Norman, A Goldfish Story, illustrated by Noah Z. Jones, being read by millions of adults and children on the same day! If enough people participate, it could be the largest shared reading experience in the whole world!
Truth is, I had absolutely not-one-thing to do with Not Norman, A Goldfish Story being chosen. That was all between the Jumpstart folks and Candlewick Press's remarkable marketing team. First I heard of it, I was in Montpelier, Vermont slurping down a maple creamy (maple ice cream cone heaven) when my phone rang. Mary Lee Donavan from Candlewick Press was on the line. Mary Lee had never called me before. When I heard her voice, I was sure she was calling with bad news. (When a publisher/editor call comes, I always think it's going to be bad news. Will that ever stop?) What I learned, and you might be interested to know, is that Read for the Record© is truly a joint effort between Jumpstart and the publishers. Among other things, Candlewick Press printed a special edition of Not Norman for Jumpstart to sell to raise funds to support its literacy efforts, as well as thousands of extra copies to donate to schools and libraries. I love my little fish Norman, so yes, I was worried. I could see millions of people registering to read the previous Jumpstart selections: Corduroy, Otis, The Snowy Day, Llama Llama Red Pajama, The Very Hungry Caterpillar, Bunny Cakes, Lady Bug Girl and the Bug Squad, The Story of Ferdinand. They are HUGE Bestsellers by big name authors! Will millions of people register to read Not Norman on Oct. 22, 2015?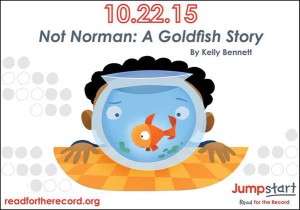 They will if I have anything to do with it!
From then to now and through Oct. 22, 2015, I am committed to spreading the word about Jumpstart, which means spending more time on marketing, traveling and school visits that I have writing. And while I'm at, I encourage everyone—you too!—to register to Read For The Record©. Here's the link: www.readfortherecord.org.
But, what about my writing? In this whirl of marketing and promotion, sandwiched between swirls of family and friend time and holidays and grand parenting, how do keep my enthusiasm for works in progress? For that matter, how do I even remember who these characters are? Let alone recall what the heck they were doing or feeling or wanting when I last left them? How do I get my head back in the writing game?
With memory joggers.
I began creating memory joggers when my then writing partner, Ronnie Davidson, and I were working on Strangers in Black, a middle grade memoire of a boy living in Cambodia when the Khmer Rouge were in power. As Cambodia was both an unfamiliar and real place, we couldn't "make up details as we went along." So, I made a collage using photocopies of pictures we'd gathered while researching the story. We hung the collage over our work area so we could see it and refer to it while writing. It worked so well I've been creating WIP collages and other memory joggers ever since.
Here are my favorite memory joggers.
Playlists:
I create a playlist for each project. The playlist consists of a song or songs that bring to mind the feel or tone I want for that project and/or a song that encapsulates key character's personalities or desires. For example, Not Norman's playlist consisted of three songs: "All By Myself," the main character's anthem ; Norman's Song is "People Let Me Tell You About My Best Friend", aka The Theme from Courtship of Eddie's Father; And Not Norman's soundtrack, "Under the Sea" from Littlest Mermaid, of course. Yes, because it's a fish song, and more because it's punchy and livelyand I wanted Not Norman to be a snappy, faced-paced story.
Visual Gallery (This is a 2-parter):
First part is about getting my mind in the game by reminding myself who I want to enjoy my story. Sometimes my internal critic and external ones (reviewers, agent, editor, adults…) get between me and my best writing. I'll find myself writing to please them, instead of writing to entertain children. To block them out and keep my intended audience in mind, I write each piece, whether it be a blog post, article or picture book manuscript, with a specific reader in mind. I have poster-sized photos of my children and grandchildren hanging on the wall in my office. They are my picture book audience!
Second part, I create collages for my stories from photocopied images collected while researching a project and/or magazines. These includes landscapes, places, clothing, and pictures of specific characters. I post the collage on the wall so I can see it while I'm writing.
Flap Copy:
I write a one-line explanation of my story (Call it what you will: Log Line, Elevator Pitch, Catalogue Copy) and post it at the top of the manuscript where I can read it each time I open the file. Here's Not Norman's: "A boy wants a pet more than anything in the world, but when he finally gets one, it's not the kind of pet he wanted at all."
 Modeling (Or as I like to think of it, use envy for good):
For each project, I find a book that has the feel, the flow, the pacing, the style of writing I want-wish-strive for in my story. Once I find "The Book" I keep it at hand and read a passage or two each time I sit down to write. For Not Norman the book was When Ira Sleeps Over by Bernard Waber.
What's best about these memory joggers is that by using music, visuals and tactiles to create them, the right-side of the brain and subconscious are working too—maybe even when we think our heads are in other games!
Kelly Bennett is the author of many books for children—mostly picture books. Her stories, such as Vampire Baby; Your Daddy Was Just Like You and Your Mommy Was Just Like You; Dance, Y'all, Dance; Dad and Pop; One Day I Went Rambling, and Jumpstart's 2015 Read for the Record© book, Not Norman, A Goldfish Story, celebrate imagination, families, friends, pets… all that goes into being a kid! Kelly divides her time between Trinidad & Tobago, Westhampton Beach, New York and Grandmaville (which is anywhere those Grand boys are!). She's busy creating lovely spaces and new stories!
GIVEAWAY! How fortunate we are that Kelly is offering signed copies of her book, Not Norman, A Goldfish Story, to 3 lucky winners! Just comment on the post and register to Read for the Record at Jumpstart for a chance to win! Click here to register.