WRITE NOW…with JaNay Brown-Wood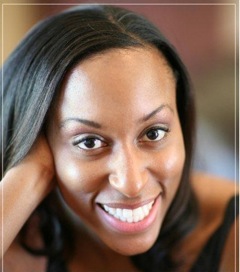 When JaNay Brown-Wood and I met as co-recipients of the NAESP Book Award, I was immediately drawn to her warmth and enthusiasm. Her beautiful debut picture book, Imani's Moon, with gorgeous illustrations by Hazel Mitchell, encourages young children to believe in themselves, through its delightful and determined heroine, Imani. It's my absolute pleasure to host on WRITE NOW the enchanting and very talented, JaNay Brown-Wood.
My Process as a Metaphor
Do you know what writing is like for me?
I'm standing on the edge of a cliff. I can see the rock beneath my tennis shoes, solid and sturdy; small loose pebbles fall away as I shift my feet, making soft crackles as they fall down the cliff side. I don't look behind me because that doesn't matter so much—what's done is done and the past has already happened.
But I do look down. Past the cliff's edge. And what I see as I peer over is…nothing. Nothing. It's like a blinding white abyss of nothing. But that's okay. Because I'm prepared. I've got what I need and more. On my back I've got an oxygen tank strapped on beneath a survival backpack that's got a parachute attached. I've got sunblock on and goggles. First-aid kit. Water bottle.
My heart slams around in my chest and beads of sweat accumulate on my brow. My mouth is dry with anticipation. I'm ready.
I step to the very tip of the cliff and stare down into the schism. And I jump, diving down into it. And as I fall downward, the details begin forming.
Specifics materialize on all sides of me. Like yesterday, when I jumped, fluffy cumulus clouds appeared among bright blue sky and patches of green and brown fields grew in size below as I neared them. And on my back, I had glider wings and my parachute–all the other things that I didn't need had disappeared.
And the day before that, when I jumped, I hit temperate water, diving down through the ocean's depths. Past jellyfish and blue whales and coral reefs. My tank was in place, oxygen filled my lungs, and I took in the beauty.
This is what it's like for me when I write. My process. I have an idea of where I'm going, sometimes more clearly than other times. And I feel confident in my abilities to make something happen on that blank page. Then I let my imagination go, let it take me wherever it needs to, allowing my fingers to trap it on the page.
And often it feels like a risk. Often, thoughts creep into my mind like "what if this scene doesn't work" or "what if my character isn't believable?" or "what will the critics say?" But, I try to quiet that with the wind or water rushing past me as I fall into my story. I'll figure all that out when I'm editing. But for now, just write. Just write. Just keep writing.
That's the most important part of all of this: Just. Keep. Writing. Even if you feel as if the risk of spilling your thoughts for others to read seems scary and daunting. Just keep writing. Even if you're not sure if you'll even use this scene in your final draft. Just keep writing. Even if there are sharks in the water or a tear in your parachute. Don't worry, just keep writing.
Someone once said "you can't edit a blank page." That stuck with me. If you want to make this happen: Just keep writing.
Your process will come. And the more you do it, the more likely it will be that your dreams will become real too. Book publications. Agents. Huge deals. Adoring readers. The works!
But none of that can happen if you don't write.
So what are you waiting for? Go on.
Write!
JaNay Brown-Wood is a children's author and educator. Through the years, JaNay has been a performer, preschool teacher, camp counselor, poet, silly-song singer, youth specialist, designer of curriculum, Harry Potter lover, reader, jellybean eater, and someone who truly cares about our future generations. Currently, she works as an Early Childhood Education professor at American River College.
Her first picture book Imani's Moon is the winner of the NAESP Children's Book of the Year Award, is a Northern CA ACL 2014 Distinguished Book, as well as a Reading Is Fundamental (RIF) Multicultural Book pick for 2015. It has also been turned into an audiobook through Live Oak Media. JaNay has also had poems featured in Highlights for Kids and Highlights High Five. Keep an eye out for her second picture book "Grandma's Tiny House" (Charlesbridge Publishing) inspired by her family's holiday gatherings.
GIVEAWAY! We're so excited that JaNay is offering an autographed copy of her wonderful book, Imani's Moon. Comment on the post for a chance to win!
To learn more about JaNay:
Visit her website at www.janaybrownwood.com
Like her on Facebook: https://www.facebook.com/janaybrownwood
Follow her on twitter: @janaybrownwood
Or shoot her an email to say "HI!" janay@janaybrownwood.com